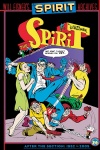 ICv2 has learned that even though DC Comics has lost its rights to publish new comic books featuring Doc Savage, The Avenger, and The Spirit (see "
DC Dumps the Pulps
"), DC does retain the rights to publish the superbly-produced
Spirit Archives
volumes that collect Will Eisner's classic
Spirit
adventures in deluxe hardcover volumes.

The deal that gave DC Comics the rights to publish The Spirit Archives was separate from the agreements that allowed them to publish new Spirit comic books as well as comics featuring other pulp-era comic and magazine heroes like Doc Savage and The Avenger. While the deal to produce new comics has lapsed, the agreement to publish The Spirit Archives remains in force.
Of course this does not necessarily mean that DC will reprint the volumes of The Spirit Archives that are currently out of print, but ICv2 has learned that the nation's oldest comic book publishing company does continue to have the legal right to do so.