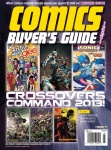 F&W Media division Krause Publications is shutting down Comic Buyer's Guide with the March 2013 issue. Although it's declined in importance in recent years, Comic Buyer's Guide was for a long time the beating heart of the comics art form, business, and community.
The downturn in print advertising and competition from free online content were cited as factors "working against the title's sustainability," according to the announcement.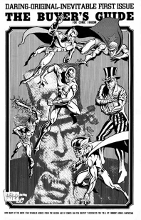 The publication was started as
Buyer's Guide for Comics Fandom
by then high school student Alan Light in 1971. Light sold it to Krause Publications in 1982. Krause hired Don and Maggie Thompson to edit the Light publications and both saw
CBG
(which had its name changed around the time of the acquisition) through its period of most rapid growth through the 80s and early 90s as a weekly newspaper. After Don Thompson passed away in 1994, Maggie Thompson continued to edit CBG until the last decade, when Brent Frankenhoff took over the day to day editing of the publication.
For its first three decades, the Buyer's Guide's fortunes tracked the growing comic store distribution channel, the growth of comics fandom, and the growth of comic publishers catering to both, serving as the center of commerce and community in a world before the Internet.
But eBay took away much of the commerce that had previously been conducted in the pages of CBG by its advertisers, and the publication was never as successful as a magazine as it tried to adapt to that changing environment.
Maggie Thompson has begun writing for San Diego Comic-Con on its new Toucan blog, and blogging on her own site.
The final issue of CBG will be #1699.