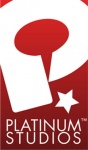 The fate of the beleaguered comics-to-movies production company Platinum Studios remains in doubt after both Platinum President Chris Beall and founder Scott Mitchell Rosenberg failed to make appearances during the company's conference call last night. The conference call with disgruntled investors was announced in a bizarre press release issued on January 8th that hinted at malfeasance in high places with references to the disappearance of a $75,000 royalty payment and "the current internal struggle and lack of checks and balances within the company," as well as what might be considered the rather basic question as to "where the company is exactly located at this time." So nobody knows where the company is located, its common stock is literally worthless, and none of the company's officers managed to muster an appearance on the conference call--we may at last be seeing the end of Platinum Studios.
According to
Bleeding Cool
neither Beall nor Rosenberg made an appearance during the call. It appears that Rosenberg has fired Beall, who from the tone of the January 8th press release, was clearly trying to get Rosenberg removed for running the company into the ground (its current stock price is .00 cents) and embezzlement (by using the company credit card for his personal expenses). According to Beall, Rosenberg has been slapped with four lawsuits arising from his tenure at Platinum, and the company has no legal representation or means of defending itself.
Rosenberg, who many comics industry veterans remember from his less-than-edifying tenure at Sunrise Distribution, founded Platinum Studios in 1997 and managed to induce enough small time comic book creators to give the movie rights to their properties to Platinum in order to claim a stable of more than 5,000 characters (none of which has managed to make it into a single successful film, much less a franchise). Rosenberg, who saw the paradigm for his new enterprise in the way in which the
Men in Black
property went from a small circulation comic to Hollywood blockbuster, was something of a pioneer in shopping comic books to Hollywood, and Platinum's
Cowboys vs. Aliens
was in fact made into a big budget film, though its failure spelled at least a temporary end to the Western genre in Hollywood (see "
Disney Torpedoes 'The Lone Ranger'
").
While it appears that Platinum Studios appears to be down for the count, it may be too early to write off Rosenberg, who rose phoenix-like from a sea of red ink and unpaid obligations with Sunrise. Perhaps we will see if there are any "third acts" in American lives.