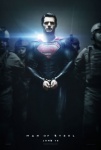 Arranging The Man of Steel's "Kryptonian Koiffure" apparently involves considerable dangers as comic fans, who have been speculating for decades as to the exact method that Superman might use to get a trim, will surely appreciate. It appears that Cheryl Pickenback, the "key hair stylist" on Zack Snyder's Man of Steel movie was in fact injured during the shooting of scenes for the film in Plano, Illinois.
According to
The Hollywood Reporter
, Pickenback is suing Warner Bros. for the "severe and permanent injuries" she received after she was instructed to walk through the rubble of one of
The Man of Steel
sets in order arrange the hair of one of the actors in between takes when she fell and received the injuries in question. Pickenback claims that Warner Bros., Legendary Pictures, and Third Act Pictures all failed to adequately protect workers who had to navigate their way through the set, which was made to appear as if it were the rubble created by one of the titanic conflicts in the movie.