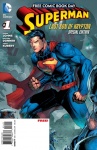 As many expected DC Comics is planning to use its Free Comic Book Day offering to provide a preview of the highly anticipated new
Superman
comic that will be produced by the dream team of writer Scott Snyder and artist Jim Lee (see "
Jim Lee and Scott Snyder on New Superman Comic
"). So far DC Comics has not announced the name of the new Superman book, which many expect to be called
The Man of Steel,
since it will debut almost simultaneously with Zack Snyder's
Man of Steel
movie, which is expected to be one of the biggest blockbusters of the summer.
The DC FCBD entry will also include the first portion of Geoff Johns, Richard Donner, and Adam Kubert's
Superman
saga,
The Last Son of Krypton
, which was chosen according to
Comic Book Resources
because it introduces General Zod, who will be the primary antagonist in Snyder's
The Man of Steel.
The inclusion of the first portion of
The Last Son of Krypton
demonstrates an effort on DC's part to tie its FCBD offering to the
Superman
film. Whatever the final title of the Snyder/Lee Superman comic turns out to be, it is clear that the focus of DC's Free Comic Book Day will be on ginning up interest in Zach Snyder's
Man of Steel
movie.