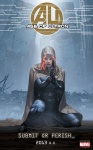 Today Marvel Comics unveiled two striking new pieces of art from Age of Ultron, the 10-issue crossover/event series written by Brian Michael Bendis that debuts in March. One of the pieces is a gorgeous rendering of Black Widow by Jung-Geon Yoon, while the other is a powerful depiction of Red Hulk by In-Hyuk Lee.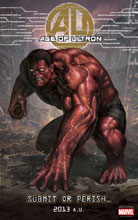 No information on the storyline for the
Age of Ultron
, which Bendis claims has "an unguessable ending that will have major repercussions for the Marvel Universe," was included in this latest announcement, though it does appear from their prominence in the teasers that Black Widow and Red Hulk will play an important role in the major crossover event along with Wolverine, Moon Knight, Invisible Woman, and Luke Cage (see "
Age of Ultron
").