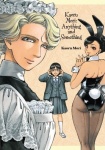 Kaoru Mori: Anything and Something HC
Publisher: Yen Press
Release Date: December 12, 2012
Price: $16.99
Creator: Kaoru Mori
Format: 208 pgs., B&W, Hardcover
ISBN: 978-0-3162-2913-5
Age Rating: Teen
ICv2 Rating: 3 stars out of 5
You know what is frustrating? Reading a manga that is so bad that it puts me to sleep every time I pick it up but so good that I feel guilty about giving it a bad review. Case in point; Kaoru Mori: Anything and Something.
In this book brought to us by Yen Press, Kaoru Mori puts together a collection of short stories and one-offs from her career. Sometimes heartwarming, sometimes sweet, sometimes tragic, but always frustrating these shorts show us why Mori has had such a successful career.
So here's my problem with this book... Anything and Something is a wonderful book filled with stories that spark the imagination and get the reader interested enough to learn more about all these different characters and all of their unique stories. Only there are no unique stories to tell as this is a book filled with beginnings. As each story only lasts a few pages, there are no middles and there are very few conclusions. Each story will, in fact, introduce characters and tell just enough of a story to get the reader interested in learning more and then end without anything that resembles a satisfactory close. As I said, it's a book of beginnings rather than a book of actual short stories.
To call the book bad however is really punishing it in a way that it doesn't deserve. The artwork is pleasant to look at (there are some wonderful two page spreads scattered throughout the book) and the stories have great characters that anyone can fall in love with quickly. If there weren't the nagging problem of the stories being too short, I wouldn't have an issue with this book at all.
Kaoru Mori has created some absolutely beautiful series in the past, including Victorian Romance Emma, and this collection of short stories shows how obviously talented she is. I could very easily see someone reading these stories and seeking out more of her work because they want to see what she can do when she is actually telling a complete story. However unless someone is already her fan, this isn't a book that I can recommend anyone pick up for their own collection. Borrow it from a library or a friend if you're curious about Mori's work and want a taste of what this talented manga-ka can do but unless you're a collector who just has to have everything Mori-related, this is not a book to buy on a whim.
-- L.B. Bryant