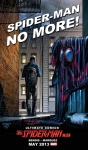 Marvel Comics has released a teaser image for Ultimate Spider-Man #23, which is slated to ship in May. Under the caption "Spider-Man No More," Miles Morales is seen walking down an alley towards the street with his Spider-Man costume draped over the side of a garbage can. Ultimate Spider-Man writer Brian Michael Bendis has been hinting at major happenings in the series, but what would cause Miles Morales to abandon his role as Spider-Man?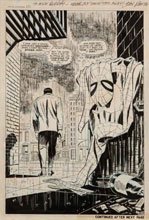 Our guess is that it is something similar to what happened to Peter Parker in the classic
Amazing Spider-Man
#50 issue, which if memory serves, also had the legend "Spider-Man No More" on the cover. The new cover image by artist Dave Marquez is clearly a homage to John Romita's classic splash-page finale to
Amazing Sspider-Man
#50, which provided one of the lasting, series-defining images from the long-running series. (Romita's splash page art sold for a hefty $88,000 in 2010).
Chances are that like Peter Parker, Mile Morales will be able to work through the issues that have created his disillusionment, but how he got to that state and how he gets out of it--well that's the fun part that will be seen as this saga unfolds over the coming months.