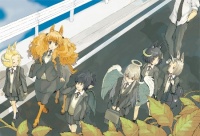 Seven Seas Entertainment has announced three new manga acquisitions. Premiering in October and November, all three books target young adult and mature audiences, and are in the supernatural and fantasy genres.
Love in Hell, by Reiji Suzumaru, releases in October. Taking a page from Greek tragedy and drama, Love in Hell is the story of Rintaro Senkawa. After a tragic accident, the young twenty-something awakes to find himself in Hell with his redemption tied to the succubus charms of his demonic guide Koyori.
Also in October is Okayado's Monster Musume. After the revelation that mythical creatures are real and living amongst humans, the Cultural Exchange between Species Act is passed in the hopes of increasing acculturation and socialization. When human teenager Kurusu Kimihito is conscripted into the exchange program, he soon learns that his house will be host to the seductive, snake-like lamia called Miia, a beautiful centaur girl, and a gorgeous harpy. Kimihito must confront his raging teenage hormones and the law forbidding interspecies sex.
A Centaur's Life, by Kei Murayama, debuts in November. High school is difficult enough for teenagers; however, for Himeno and her friends Nozomi and Kyoko, their lives are anything but regular. Adolescent trials are even harder for the young centaur and her mythical companions. A new interpretation on the classic coming of age, slice-of-life genre, A Centaur's Life is a high-school age comedy.
--Nathan Wilson