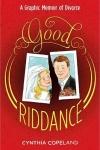 Good Riddance: An Illustrated Memoir of Divorce TP
Publisher: Abrams Comicarts
Release Date: May 2013
Price: $17.95
Creator: Cynthia Copeland
Format: 224 pgs.; Two-Color; 6" x 9"; Trade Paperback
ISBN: 978-1-4197-0670-7
Age Rating: N/A
ICv2 Rating: 3 Stars out of 5
What happens when you are a wife, mother and successful author and illustrator, in a happy home with a loving family… and you find out that your husband and sometimes co-author wants out?
Cynthia Copeland has long been known for packing both humor and information into her books for children and adults. This time, she shares the process of the dissolution of a marriage with the same style and a lot of skill. While cartoony, this graphic memoir deals with the serious issues of a divorce, along with some of the funny things that can happen when you have to take a family apart, while keeping all of the pieces sane and happy. She manages to keep it from turning into a bitter diatribe, although her ex-husband is portrayed in a moderately negative fashion. Unfortunately we never really get inside his head, other than the overall impression that he had a mid-life crisis and wanted to not be married. Without that insight, we are left with the vague impression that he is less mature than his own children, and that they know it. His post-divorce actions emphasize that.
This book is aimed at adults, and is good enough to find an audience, but it could have been better.
--Nick Smith: Librarian Technician, Community Services, for the Pasadena Public Library in California.