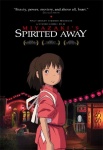 Hayao Miyazaki's Spirited Away took the Oscar for Best Animated Feature on Sunday, beating nominated titles from Dreamworks (Spirit:

Stallion of the Cimarron), Disney (Lilo and Stitch, Treasure Planet), and Fox (Ice Age).

This represents a new appreciation of the artistic quality of anime by Hollywood, and should give the film a sales boost when Disney (the American distributor) releases it and two other Miyazaki titles April 15th (see 'Disney Set To Release Three Miyazaki Films').

Since almost no-one saw the film during the extremely limited arthouse release Disney gave it last year, the opportunity to capitalize on interest in the film falls entirely to retailers carrying the DVD.
In other Oscar news of interest to pop culture retailers, Road to Perdition, based on the Max Allan Collins graphic novel, took the Oscar for cinematography, and Lord of the Rings:

The Two Towers took two Oscars, for sound editing and visual effects.