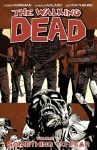 The Walking Dead
, while still holding the top three spots and six of the Top 20, loosened its hold on graphic novel sales in bookstores in January, according to the "Top 20 Graphic Novels" sold in the book channel, provided exclusively to ICv2 by Nielsen BookScan. The red-hot property held ten of the top 20 in December, so
The Walking Dead
slippage made room for four more manga and other titles in January.
Chris Ware
'
s
Building Stories
(from Pantheon Books) remains at #4, for its fourth month in the top five.
Sailor Moon
Vol. 9 (from Kodansha Comics) was the top manga at #6 and the top new title on the list. It was one of five manga titles in the Top 20, up from two last month.
Image Comic
'
s
Saga Vol. 1
moved up from #12 to #8 this month, demonstrating remarkable legs.
Zondervan
'
s
The Book of Revelation
, a graphic novel adaptation of the last book of the
Bible
, hit the chart at #9 in its third month of release.
BookScan Top 20 Graphic Novels in January 2013

Rank

Title

Author

Publisher

1

THE WALKING DEAD VOL. 17

ROBERT KIRKMAN

IMAGE COMICS

2

THE WALKING DEAD COMPENDIUM VOL. 2

ROBERT KIRKMAN

IMAGE COMICS

3

THE WALKING DEAD VOL. 1

ROBERT KIRKMAN

IMAGE COMICS

4

BUILDING STORIES HC

CHRIS WARE

PANTHEON BOOKS

5

THE WALKING DEAD COMPENDIUM VOL. 1

ROBERT KIRKMAN

IMAGE COMICS

6

SAILOR MOON VOL. 9

NAOKO TAKEUCHI

KODANSHA COMICS

7

FABLES VOL. 18

BILL WILLINGHAM

VERTIGO

8

SAGA VOL. 1

BRIAN K. VAUGHAN

IMAGE COMICS

9

THE BOOK OF REVELATION

CHRIS KOELLE

ZONDERVAN

10

WATCHMEN

ALAN MOORE

DC COMICS

11

MAXIMUM RIDE VOL. 6

NARAE LEE

YEN PRESS

12

FUN HOME: A FAMILY TRAGICOMIC

ALISON BECHDEL

MARINER BOOKS

13

NARUTO VOL. 59

MASASHI KISHIMOTO

VIZ MEDIA

14

THE WALKING DEAD BOOK 2 HC

ROBERT KIRKMAN

IMAGE COMICS

15

BATMAN: THE DARK KNIGHT RETURNS

FRANK MILLER

DC COMICS

16

THE WALKING DEAD VOL. 2

ROBERT KIRKMAN

IMAGE COMICS

17

BLACK BUTLER VOL. 12

YANA TOBOSO

YEN PRESS

18

BLEACH VOL. 54

TITE KUBO

VIZ MEDIA

19

DARK TOWER: THE GUNSLINGER--MAN IN BLACK HC

PETER DAVID

MARVEL COMICS

20

AVATAR: THE LAST AIRBENDER--THE PROMISE PART 3

GENE YANG

DARK HORSE