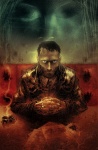 As part of his Studio JMS media company (unveiled at the 2012 San Diego Comic Con, see "
Straczynski Forms Studio JMS
"), J. Michael Straczynski is relaunching his Joe's Comics imprint at Image Comics this May with
Ten Grand
. Originally, Joe's Comics was an imprint with Top Cow beginning with the 1999 publication of
Rising Stars
through 2004.

The first in a planned series of new Joe's Comics titles, Ten Grand will be written by Straczynski with cover and interior art by Ben Templesmith (30 Days of Night, Fell). Centering on the life of Joe Fitzgerald, Ten Grand is the story of a mob enforcer who abandons his criminal life for a woman named Laura. Yet, before he can retire, he must complete one final job for the mafia. When Joe fails to assassinate the man, the target seeks vengeance, assaulting Joe and killing Laura in the process. Visited by an angelic force, Joe is given a divine yet bizarre opportunity. Each time he is killed in a righteous cause, he will be returned to life to continue his quest; however, in those moments of death, he can briefly be reunited with Laura.
The premiere issue will include a QR code for an audio performance of the issue's dialogue featuring the anime and video game voice talents of Yuri Lowenthal (Naruto, Batman: The Brave and the Bold, Generator Rex) and Tara Platt (Ben 10), as well as Babylon 5's Robin Atkin Downes. Issues #1 and #2 will also have Bill Sienkiewicz variant covers, and Phantom variants. Fans attending C2E2 in late April will have the opportunity to obtain a convention variant of Ten Grand a week prior to the series' release. Currently, the series and other forthcoming Joe's Comics titles are planned in twelve-issue installments.
Straczynski also revealed that in addition to Ten Grand, Joe's Comics is also planning Sidekick to debut at San Diego Comic Con this summer, followed by Alone and Protectors, Inc. in the Fall.

--Nathan Wilson