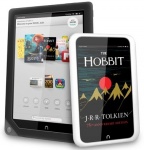 Barnes & Noble's sales in its Nook division dropped 26% in the quarter ended January 26th, the company announced Thursday in its earnings report. Digital content sales were up 6.8%, so the drop in hardware sales was worse than 26%. The company reported $21 million in Nook returns from other retailers, and gave out $15 million in promotional allowances to move Nook products still on the shelves. The company plans to significantly cut its Nook expenses going forward.
Barnes & Noble had previously revealed that its holiday sales were weak (see "
Barnes & Noble Holidays Down
"), but had not disclosed how bad its Nook sales were.
Digital book sales are flattening, the company said in its conference call, putting its stores in a good position in the future.
The company is going to explore spinning out its bookstores and leaving the Nook division behind (see "
Barnes & Noble Break-up?
").