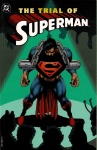 The Siegel heirs have mounted a new attack on the agreement, according to
Hollywood Reporter
, alleging that even if the 2001 agreement that the court ruled was valid was indeed a contract, that DC did not perform under the contract. "DC anticipatorily breached by… demanding unacceptable new and revised terms as a condition to its performance; accordingly, the Siegels rescinded the agremenet, and DC abandoned the agreement," the latest filing says.
The Siegels are also arguing that the Copyright Act does not allow contractually agreeing to transfer terminated copyright rights before they are terminated, a theory that has worked in some cases, but not in others.
On the other hand, Warners has filed for summary judgment that its 2001 agreement with Siegel is enforceable, and says that it believes that the dispute can be "fully and finally resolved in the next 60 to 90 days." Warners has a strong incentive to wrap things up; its high stakes Superman film,
Man of Steel
, premieres in June (see "
Full 'Man of Steel' Trailer
").