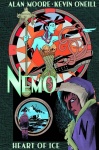 Sales of comics and graphic novels to comic stores grew over 10% in February vs. February 2012, according to Diamond Comic Distributors. Graphic novels were down around 1.5% and comics were up 15.91% to produce that over-all market.
The growth rate in February declined from the blistering 27% growth rate over-all in January (see "
Comic Sales Roar in January
"), but that may reflect January's five weeks of invoicing more than a trend.
Marvel maintained its recent hold on the #1 market share slot with a 35% share vs. a 29% sharea for DC.
Two relaunches,
Justice League of America
#1 and
Uncanny X-Men
#1, topped the comic charts, while the latest
League of Extraordinary Gentlemen
hardcover volume from Top Shelf was #1 in graphic novels.