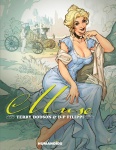 Muse HC
Publisher: Humanoids
Release Date: March 2013
Price: $34.95
Writer: Denis-Pierre Filippi
Artist: Terry Dodson
Format: 104 pgs., Full-Color, 9.5" x 12.5", Hardcover
ISBN: 978-1-5946-5038-3
Age Rating: Mature
ICv2 Rating: 4 out of 5
Collecting the French albums Songes: Coraline and Songes: Celia published individually in 2006 and as a deluxe edition in 2012, Humanoids has now made Terry Dodson and DP Filippi's beautiful work available in English for the first time with Muse. Combining steampunk and cheesecake, fantasy and adventure, Muse is wild, sexual, and jovial in the misadventures of its heroine, Coraline.
Recently, Humanoids has made a concerted effort to distribute critically-acclaimed European albums as well as joint ventures between European creators and American artists to attract US readers who might miss out on their catalog amongst all the capes and tights. With two volumes in its Metal Hurlant Collection, I Am Legion, and Screaming Planet, Humanoids have combined the talents of writer Alexandro Jodorowsky with visuals by Adi Granov, J.H. Williams III, alongside the work of Geoff Johns, Cully Hamner, Stuart Moore, Ryan Sook, John Cassaday, Kurt Busiek, David Lloyd, Richard Corben, and Guy Davis to name but a few. Muse continues this tradition by joining American illustrator Terry Dodson (Harley Quinn, Wonder Woman, Uncanny X-Men) with writer DP Filippi (The Book of Jack, John Lord). The results are breathtaking.
Fans of Dodson's art, particularly his skills in rendering the female anatomy and distilling overtones of hypersexuality and sensuality, will find much to champion in Muse. For the majority of the story, Coraline finds herself in constricting, Victorian couture, skimpy lingerie, or barely clothed at all. Yet, Muse is anything but cheap titillation. Dodson's brilliance come in the rich, tapered landscapes that transition between country estate, Jules Verne futurism, piracy on the open seas, island captivity, fairy tale fantasy, and a Middle Eastern harem. In turn, these are brought to life by the wondrous palette Dodson and Rebecca Rendon employ that calls to mind the work of Adam Hughes. Presented at full size 9.5 by 12.5 inches, readers can truly appreciate Dodson's skills that might be limited in the regular, American monthly format.
Narratively, Muse is quite basic. Coraline is hired as a governess to supervise and educate a reclusive, young master Vernere who is quite content with his inventions. Subjected to the deviant advances of the groundskeeper and the drug-laced wine designed by Vernere, Coraline quickly finds herself cast into a series of bizarre dream environments where she must defend against sexual assault. The mystery of Muse is deciphering who Venere is and what his intentions are. There are some awkward moments, however, particularly in the second-half of the book and conclusion where the story begins to appear tacked on rather than a natural evolution of the earlier plot.
Yet, even with this minor criticism, Dodson's illustrations succeed triumphantly and the visual storytelling merits of Muse largely prevail due to his magnificent art. With a commitment to excellent, production value, binding, and paper quality, Humanoids has once again published a distinctive and stellar volume in its diverse and acclaim-worthy catalog.
--Nathan Wilson