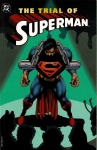 Marc Toberoff, attorney to the heirs of Superman creators Jerome Siegel and Joseph Shuster, will not have to pay $500,000 in legal fees to DC Comics, under a ruling Thursday in federal court, according to
Variety
. The fees were requested as part of broad-ranging litigation over Toberoff's representation of the heirs; a key ruling went Toberoff's way in March (see "
Warners Loses One in Supes Fight
"), and Thursday's rulings appear to wrap up the case, unless DC appeals.
The judge also ruled that DC's tortious interference claims against Toberoff were beyond the statute of limitation, and noted that other claims were moot given the status of the over-all litigation over the rights.
The over-all litigation over the rights to Superman have been going against the heirs, though, with appeals likely after the heirs lost in both federal district and appeals courts over the last few months (see "
Warner Bros. Wins Another Round in Superman Case
").