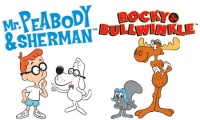 IDW Publishing has acquired the rights to publish comics based on Jay Ward's characters, which include Rocky & Bullwinkle, Boris and Natasha, Snidely Whiplash, Mr. Peabody Sherman, and Dudley Do-Right, among others. The first IDW comics based on the properties will appear this fall.
The Jay Ward characters were part of the Classic Media portfolio acquired by DreamWorks Animation last year (see "DreamWorks Acquires Classic"). DreamWorks Animation is producing a computer-animated Mr. Peabody and Sherman feature, which will be released next March (see "'Mr. Peabody and Sherman' Gets a Date").
IDW will publish a Mr. Peabody & Sherman comic series leading into the film.
A new Rocky & Bullwinkle series will launch in early 2014.
Reprint collections of previously released comics based on the Jay Ward characters are also planned. Comics featuring the characters were previously published by Dell, Gold Key, Charlton, and Marvel's Star Comics.
The Rocky & Bullwinkle animated series was a brilliantly twisted Cold War parody that combined clever writing with limited animation, a formula that also applied to the other properties spawned by the show.