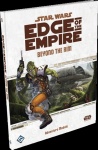 Fantasy Flight Games has announced the first supplementary adventure book for use in the
Star Wars: Edge of the Empire
Roleplaying Game.
Beyond the Rim
is announced as a "third quarter" release; the
Star Wars: Edge of the Empire Core Rulebook
(see "
'Star Wars: Edge of Empire Core Rulebook'
") has been delayed from its planned April release until July.
Beyond the Rim
is a 96-page adventure in three acts. It takes place on the fringes of galactic society, carrying players from the hub-and-spoke space station known as the Wheel to the surface of a deadly jungle planet Cholganna at the edge of Wild Space. In addition to exploring the Edge of the Empire and uncovering decades-old secrets from the Clone Wars, the book offers potential subplots and gives the GM ways to customize the adventure for more experienced parties.
One of the highlights of the adventure is the effort made to bridge the Clone Wars with the Rebellion era in the adventure's backstory.
Designers drew from the original trilogy, the prequel movies, and
The Clone Wars
animated series in order to flesh out the story.