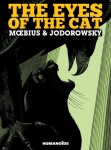 The Eyes of the Cat HC
Publisher: Humanoids Inc.
Release Date: June 26, 2013
Price: $34.95
Creator(s): Moebius and Alexandro Jodorowsky
Format: 56 pgs., Full-Color, 7.7" x 10.5", Hardcover
ISBN: 978-1-5946-5042-0
Age Rating: Mature
ICv2 Rating: 5 out of 5
Originally published as a free hardcover in France as
Les Yeux du Chat
in 1978 and first distributed in the United States and translated into English in 1990's
Taboo
#4,
The Eyes of the Cat
represents the debut collaboration between Moebius and Alexandro Jodorowsky. While the creators later went on to share projects such as
The Incal
,
The Madwoman of the Sacred Heart
,
Angel Claw
, and more,
The Eyes of the Cat
became the bridge for the two between the disappointing, two-year attempt to develop
Dune
as a film and the subsequent multivolume, decade-long
The Incal
series. And, while Humanoids released a deluxe, oversized, limited edition of
The Eyes of the Cat
in late 2011, the $69.95 price targeted primarily collectors and subsequently went out of print. Now, Humanoids has made the Moebius-Jodorowsky book available again with this latest edition.
Replicating the original printing design,
The Eyes of the Cat
is published on yellow paper, which only reinforces the disconcerting and disturbing nature of the story. There is a haunting atmosphere as well to the structure of the book itself and how the narrative unfolds. On one side, the left, readers only glimpse the full page, self-replicating image of an unknown individual staring out the window with only the most minimalist of corresponding text. Throughout, audiences witness a changing panorama of an urban macrocosm transforming into the microcosmic as Moebius alters the focus from a broad cityscape, by utilizing a single strand of light piercing through the clouds and invading the streets below, to one of personal horror as the cat enters the scene and encounters the soaring eagle. Yet, all of this transpires on one-panel pages along the right side of the book as Moebius moves us beyond the ensuing animalistic violence and later unites the two divergent pages, bringing cohesion to the dual perspectives of man and animal as the eagle returns with its prize. Moebius' use of angle and framing between the two pages evoke the frenzied pacing as the individual reaches for the prize and the eagle once again takes flight.
At only 56 pages,
The Eyes of the Cat
is a short read, but one that holds stark beauty in its potential to elicit such a tale of horror and intrigue in so few pages and with even fewer words. Along with a contextualized foreword by Jodorowsky, which outlines the history of the creators' friendship and their work on the book,
The Eyes of the Cat
stands out as a reminder of the innovative visual storytelling potential afforded only comics, that neither film nor fiction can reproduce.
--
Nathan Wilson