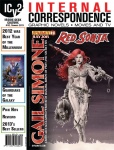 The comic market in 2012 was the best of the millennium, according to a new report just released by ICv2 in
Internal Correspondence
#82. The North American market for comics, including periodical comics, graphic novels, and digital, totaled $750 million in 2012, up from $665 million in 2011, a 13% increase.
There were dramatic changes in sales of every format. Digital sales nearly tripled, to around $70 million, or around 9% of the total market, from $25 million in 2011. This growth appears to be helping, rather than hurting, the growth in print, as we have been predicting for years (see "
Why Digital Comics Are Different?
").
Comic Market in the Digital Age

(North America, sales in millions)

GNs

Comics

Total Print

Digital

Grand Total

2009

$370

$310

$680

$1

$681

2010

$350

$295

$635

$8

$643

2011

$340

$300

$640

$25

$665

2012

$335

$345

$680

$70

$750

© 2013 ICv2
Print sales, at $680 million, were back to 2009 levels, recovering from a tough couple of years after the crash of the world economy in 2008 and the collapse of the Borders bookstore chain in 2011. Unless things change dramatically in the second half of the year, 2013 will see the full recovery of the print market to levels above 2007 and 2008, the top years since 2000.
Sales of comic periodicals boomed, increasing 15% behind DC's "New 52" and the beginning of the Marvel NOW! initiative, as well as strong sales from Image Comics and IDW Publishing, to around $345 million. There was also strength among smaller comic companies.
Graphic novel sales slipped a little, to $335 million from $340 million in 2011, but that small change was actually a combination of a jump in comic store sales and a 9% decline in bookstore sales. Manga sales suffered in bookstores (although they grew a bit in comic stores).
The Walking Dead
graphic novels were phenomenal performers in 2012, driving the graphic novel growth in comic stores and offsetting some of the decline in manga sales in bookstores.
Internal Correspondence
#82 also included ICv2's bestseller charts of the top graphic novel properties across eight categories for Spring 2013:
Top 10 Genre Graphic Novel Properties--Spring 2013
Top 10 Fiction & Reality Graphic Novel Properties--Spring 2013
Top 10 Superhero Graphic Novel Properties--Spring 2013
Top 5 Comic Strip Properties--Spring 2013
Top 10 Kids & Tweens Graphic Novel Properties--Spring 2013
Top 25 Manga Properties--Spring 2013
Top 10 Shojo Properties--Spring 2013
Top 10 Shonen Properties--Spring 2013
For info on how to get your copy of ICv2's
Internal Correspondence
#82, with the full market reports, Pick Hits of the best upcoming releases, and reviews, see "
ICv2 Releases 'Internal Correspondence' #82
."
For information on ICv2's upcoming Conference at New York Comic Con, where ICv2 will present its full White Paper on the comics and graphic novel market see "
Comics Ahead!--The ICv2 Conference
."