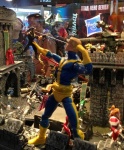 Toy giant Hasbro has inked extensions of its toy licensing deals with the Walt Disney Company that will keep America's #2 toymaker as the home for both Marvel and
Star Wars
licensed playthings through 2020. Hasbro is paying $80 million to extend its pact covering Marvel Comics (and movie) toys for two years until 2020, and $225 million to keep the rights to produce Star Wars toys for the new batch of Disney-produced
Star Wars
films. The new Hasbro
Star Wars
license also extends through 2020.
Marvel signed an extension of its deal with Hasbro in 2009 (see "
Marvel Re-Ups With Hasbro
") so Disney inherited the Hasbro deal when it acquired Marvel, in much the same manner that the Mouse House acquired another relationship with Hasbro when it bought Lucasfilm. The ongoing negotiations between Hasbro and Disney, which led to the extensions reported today, had some outsiders speculating that Disney would acquire Hasbro in a move to vertically integrate toy production into its multi-media empire (see "
Disney-Lucasfilm Rumor Round-Up
"), but those reports proved to be just rumors.
The additional payments to Disney for the Marvel toy license are contingent on the Mouse House continuing to release movies based on the Marvel characters. The
Star Wars
deal appears to be linked to the three announced Disney-produced
Star Wars
films with the first payment of $75 million payable when the deal is signed. The first Disney
Star Wars
film, which is being directed by J.J. Abrams, will be released in the summer of 2015.