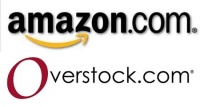 A price war on books between Overstock.com and Amazon has reached graphic novels, with prices on some titles at 50 to 70% off retail, levels of discounting never before seen in books. Overstock.com began advertising a one-week sale with prices "10% off Amazon's Book Prices" earlier this week. Amazon has been matching or beating prices, leading to further reductions.
The heavy discounts are hitting new titles, perennials, and even advance order products.
Brick and mortar stores are collateral damage (or potential beneficiaries, if they stock up at low prices) in the battle between these two online giants, both of which are selling at well below cost on some titles.
A few examples:
The Walking Dead Compendium
Vol. 1, $59.99 MSRP
Amazon $26.59, 56% off
Overstock $23.93 60% off
Batman: Court of Owls Mask and Book Set
(October), $24.99 MSRP
Amazon $10.49 (58% off)
Overstock $7.54 (70% off)
Absolute Blackest Night
, $125 MSRP
Amazon $52.08 (58% off)
Overstock $46.87 (63% off)
X-Force Omnibus
, Vol. 1, $99.99 MSRP
Amazon $54.30 (46% off)
Overstock $48.87 (51% off)
Complete Calvin and Hobbes
(pb), $100 MSRP
Amazon $50.73 (49% off)
Overstock $45.66 (54% off)