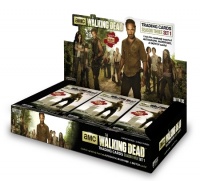 Cryptozoic Entertainment will release two sets of
The Walking Dead Season 3 Trading Cards
sets, one each for the characters of the prison (Set 1), and for the characters of Woodbury (Set 2). Set 1 "should release by the end of the year," and Set 2 "should release just a few months after that," the announcement said. The Season 2 set released last December (see "
'The Walking Dead' Season 2 Trading Cards
").
Cryptozoic split
The Walking Dead Season 3
set into two parts to expand the number of characters and signers featured. There will be some characters that appear in both sets.
The sets are being developed simultaneously so the two sets together give a comprehensive view of Season 3; Autograph, Wardrobe, and Sketch cards will be numbered consecutively across the two sets. Special cards will be included as follows: Autograph cards (1:24 packs), Wardrobe cards (1:24 packs), and Sketch cards (1:288 packs).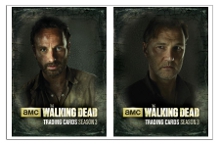 The first two numbered cards will be promotional cards of Rick and The Governor (pictured here) which will be included in the October/November and December/January issues of
Non-Sport Update Magazine
.
MSRP is set at $3.50 per pack, with 5 cards per pack and 24 packs per box.
In addition to the television show-based trading card sets, Cryptozoic also recently released the second set of comic-based trading cards in June (see "
'TWD Comic Trading Cards Set 2'
").
The Walking Dead
took the #1 spot on ICv2's Genre Graphic Novel Property chart for Spring (see "
Top 10 Genre Properties--Spring 2013
").