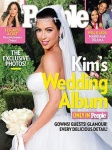 Newsstand sales of magazines dropped 10% during the first half of 2013 compared with sales in the first half of 2012 as reported by the Alliance for Audited Meda via
The New York Times
. This continues a downward trend as newsstand sales of magazines again plummeted by double digits (see "
Magazine Sales in Free Fall
" for a rundown of very similar declines in the first half of 2012). This time it was celebrity titles like
People
(down 11.8%) and
US Weekly
(down 16.7%) that led the way along with
Vogue
(down 10.4%) and
Vanity Fair
(down 11%), while Women's magazines such as
Cosmopolitan
(down 23.9%),
Glamou
r (down 28.8%), and
The Oprah Magazine
(down 22.7%) suffered even steeper declines
Total paid circulation was down 1% as increases in subscription sales, which can be boosted by special promo offers, made up for much of the difference for some magazines like
Vogue, Vanity Fair
, and
Time
, which all posted modest gains in total circulation.
The second half of 2013 should get a boost in newsstand sales due to the birth of the Royal baby, but barring a rash of similar highly newsworthy events, there is no reason to expect this long-trending decline in newsstand sales to reverse itself.
So far digital sales of magazines, in spite of promising growth, have proven to be far from a panacea for declining newsstand sales. In spite of solid growth in digital subscriptions for some titles like
The Oprah Magazine
with posted a 22% rise in digital subscribers and
Cosmopolitan
, which managed to up its digital subscribers by 33%, digital magazine sales accounted for just 3.3% of all magazine sales in the first half of 2013. While that is nearly doublie the 1.7% they represented in 2012, it is hardly enough to make up for the 10% drop in newsstand sales.