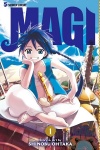 Magi Vol. 1 TP (Manga)
Publisher: VIZ Media
Release Date: 8/13/2013
Price: $9.99
Creator: Shinobu Ohtaka
Format: 200 pgs., B&W, Trade Paperback
ISBN: 9-781-4215-5951-3
Age Rating: 16+
ICv2 Rating: 4 stars out of 5
Magi
is another interesting title from
Shonen Sunday
that has managed to catch my attention because not only is it a shonen title but it's a GOOD shonen title. My first introduction to this series was an as anime which began airing in Japan last year and while it was decent, it wasn't enough to keep my attention so I dropped it without thinking much more about it. Now, a few months later, I find myself at the end of the first manga volume and wanting more. Like right now. Because it really is that good and entertaining.
In the first two chapters, the two main characters are introduced. In chapter one, you have the young Aladdin who loves to snuggle breasts and has the power to summon a giant djinn from a flute which protects him from danger. In his story, Aladdin isn't the primary focus of the story. In fact, it's a girl named Laylah that we may or may not ever see again. Despite not being the main focus of the chapter however, the author manages to tell a solid story that still manages to introduce the main character and what kind of personality he has.
In the second chapter we meet the other main character, Alibaba, a poor caravan driver who dreams of a better, richer life which he wants to achieve by conquering a dungeon. This is, again, a solid story which sets up the larger picture and lets us know what kind of person Alibaba is. Now take those solid introductions and just coast on good storytelling for another hundred or so pages and you have the first volume of
Magi
.
Also interesting to note about
Magi
is that despite having quite a few hallmarks of the genre (powerful boy with powers, breast jokes, etc.), it never feels weighed down by them.
Magi
is a story that seeks to break boundaries and does a good job of it while still delivering the solid action sequences that keep you involved as a reader. To call this one boring would be an outright fib.
The one thing that I would caution readers against is the fact that this is a series that has been running since 2009 which means be prepared to be in it for the long haul once you get started. If you're looking for a fun shonen series that manages to expand the boundaries just a little bit, don't be afraid to pick this one up.
--
L.B. Bryant