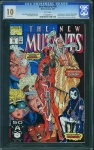 There is no denying that
Deadpool
, Marvel's "Merc with a mouth," is enjoying something of a renaissance in popularity these days with a popular comic book series and a movie adaptation in the works, but it still is a bit surprising that a mint copy (graded "10") of
New Mutants
#98, which features the first appearance of Deadpool, sold for nearly $16,000 at the recent Comiclink auction. The total is quite possibly a record for "Modern Age" books (1985-present) and definitely reflects the growing popularity of Deadpool.
Rob Liefeld, who both wrote and drew
New Mutants
#98 (Fabian Nicieza scripted), reported the sale on twiiter and posted a picture of the book itself on
Instagram
. The smart aleck anti-hero has certainly come a long way since his first comic book appearance in February of 1991.
Deadpool
recently reached as high as #31 on IGN's list of the Top 100 Comic Book Heroes, not a bad showing for a character that was created during the presidency of the first George Bush.
Will the folks at Fox take notice of the current popularity of
Deadpool
and push ahead with the oft-delayed
Deadpool
film? The answer may lie in the performances of the
Wolverine
movie that is currently in theaters and
X-Men: Days of Future Past
, which Bryan Singer is currently editing for a 2014 release. So far the development of the
Deadpool
movie has been a frustrating appearance for all concerned (see "
Like The Worst Relationship I've Ever Had
").