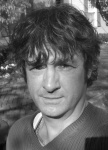 Jeff Smith has been unanimously elected to the Comic Book Legal Defense Fund's Board of Directors, the Fund announced Tuesday. The
Bone
and
RASL
creator joins fellow creators Larry Marder, Jennifer L. Holm, and Paul Levitz and industry leaders Jeff Abraham, Dale Cendali, Joe Ferrara, Milton Griepp, Andrew McIntire, and Chris Powell on the board of the organization, which oversees the Fund's activities protecting the freedom to read comics.
"The CBLDF has always been an important organization to me, and I'm looking forward to increasing my efforts to support its work as a member of the Board," Smith said. "I'm especially pleased to help them with their excellent work protecting the Kids' Right to Read."
The Fund is offering signed copies of the limited edition RASL: Limited Collectors Edition and the Bone: One Volume Edition as premiums for new memberships or renewals at selected membership levels as part of its annual Be Counted campaign.