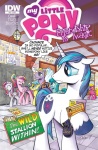 IDW Publishing announced Tuesday that sales of its
My Little Pony
comics have topped 1 million, less than a year after launch. That one million copies includes print single issues, trade paperbacks, and the special Scholastic Book Fair edition, which was a two-issue collection with a pony bubblewrapped on the cover, IDW CEO Ted Adams explained.
My Little Pony
#1, which has had four printings, is the bestselling comic in IDW's history.
In addition to Scholastic Book Fairs, IDW sells
My Little Pony
comics and graphic novels in comic stores, bookstores, and in other specialty retail such as Hot Topic stores. "Hot Topic is continuing to order it, so it's clearly selling through for them," Adams told us.
Digital sales, which were not counted in the 1 million figure, are also strong, according to Adams. In Apple's iBooks store, the
My Little Pony
comics were five of the top ten titles recently.
We asked Adams why he thought the
My Little Pony
comics were selling so spectacularly. "It's fun; it's well done; the shows and the comics have a really good sense of humor; and the character design is great," he said. "It's a really good product that's found an audience."
Adams said he had been traveling, and visiting comic stores around the country. "At every store I stop in, when I introduce myself the retailer starts taking about entirely new customers the titles I bringing in," Adams said. "Little girls, kids coming in with their parents."
"A lot of times we do things with a big brand and aren't able to get fans engaged with the comics," Adams told us, "but with
My Little Pony
, we've been able to accomplish that."
IDW is planning a special variant edition of the #12 issue, limited to 12 copies, which will be disbursed via contests and charity auctions.
My Little Pony
#12 will be released later this month.