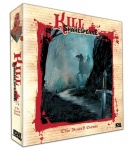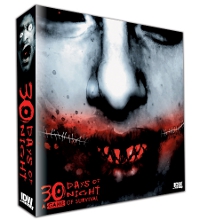 Today IDW Publishing announced the launch of a new tabletop gaming division, IDW Games, in partnership with boardgame producer Pandasaurus Games. Pandasaurus will be coordinating design, production and distribution for IDW Games.
Beginning with releases in late spring 2014, IDW Games will specialize in big box games developed around several IDW properties, including their first two:
Kill Shakespeare
and
30 Days of Night.
Both games have a tentative MSRP of $60.00.
The
30 Days of Night
game (based on the comic written by Steve Niles and illustrated by Ben Templesmith) will be an intense, story-driven, survival horror game.
IDW shared that
Kill Shakespeare
(based on the comic series by Anthony Del Col and Conor McCreery with art by Andy Belanger) will be a semi-cooperative "gamers game," and will be designed by Thomas Vande Ginste and Wolf Plancke (
Yedo
).
"With all of the great properties we publish, it seemed natural that a lot of them would make fantastic games," said IDW CEO & Publisher Ted Adams.
"We at Pandasaurus Games are thrilled to be working with the talented team at IDW to develop incredible games built on the amazing worlds of their comics," said Pandasaurus President/Founder Nathan McNair. "(T)heir comic books create living breathing worlds that drip theme and beg readers to dive into headfirst. We can't wait to help bring these worlds to life for gamers everywhere."