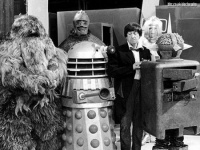 Later this week the BBC is expected to announce the identity of a recently discovered trove of lost episodes from the seminal science fiction series
Doctor Who
. Currently there are 106 "lost" episodes of the series, which began airing back in 1963. The BBC destroyed many of the original transmission tapes from the series during the 1960s and 1970s when such tapes were routinely erased and used over again.
Fortunately the vast majority of the episodes were transferred to film for broadcasting in foreign countries, and it is likely some of these prints prepared for foreign broadcasters that make up this latest find.
According to the
BBC Website
, the "Beeb" is expected to announce the names of the newly rediscovered "lost episodes" and also the plans the network has made to release these lost
Doctor Who
sagas on video. In producing videos based on "lost episodes" in the past the BBC has had to resort to creating animated sequences based on the original scripts to fill in for missing episodes and scenes (see "
DVD Round-Up: 'World War Z', 'Arrow,' 'Adventure Time'
").