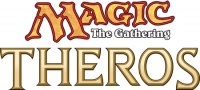 Magic: The Gathering
was up 30% year over year in Q3, Hasbro CEO Brian D. Goldner told analysts in the company's
conference call
on Monday, in which he also talked about strategy and the importance of the hobby channel to sales of the game.
The release of
Magic: The Gathering--Theros
(see "
Top 10 'M:TG--Theros' Cards Before and After the Pre-Release
") was mentioned as a growth driver because of increases over the comp launch of
Ravnica
in 2012. Also called out was the strategy of organized play in hobby stores (see "
WotC's New Block-Long 'Magic' OP Event
"), described as the analog corollary of Hasbro's online strategy of expanding the number of simultaneous online gaming sessions.
"In many ways,
Magic
was the early indication for us how we're going to execute our Games business going forward and allowing people to play
Magic
in any form or format they want anytime and anywhere," Goldner said.
Goldner also revealed that hobby stores (or more broadly, stores for which Hasbro does not receive POS data) account for 80% of the sales on
Magic: The Gathering
, a percentage that explains Wizards of the Coast's continued emphasis on the hobby channel despite the brand's wide distribution in mass merchants such as Walmart.
The growth rate for
Magic
compares favorably to Hasbro's peer brands in a couple of ways: 30% greatly exceeded the 6% overall growth in Hasbro's game category, and the 19% overall growth in what Hasbro calls its "franchise brands," key company-owned brands including
Magic
,
My Little Pony
, Nerf,
Transformers
, and Play-Doh.
Games was not the strongest category, though; that was girls, which was up 29% behind Furby,
My Little Pony
, and Nerf Rebelle.
Boys was down 17%, with tough comps for Marvel (which had both
Avengers
and
Amazing Spider-Man
toys in 2012) and
Beyblade
.
And preschool was near flat at -2%.
That all added up to a 2% increase in Hasbro revenues for the quarter, to $1.37 billion, and a 3% increase in operating income.
There was also considerable variability by segment, with U.S. and Canada down 5%, international up 11%, and entertainment and licensing up 13%.
The $1.46 per share in earnings was a beat; the stock was up over 5% to 49.72 at the close on Monday.