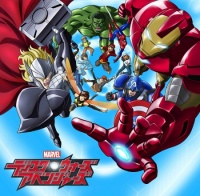 The Walt Disney Company (Japan) Ltd. will produce
Marvel Disk Wars: The Avengers,
an anime series targeting boys 6-12, with Toei Animation Co. The show will premiere nationwide in Japan sometime in spring 2014. The story follows The Avengers (Iron Man, Captain America, Thor and the Hulk) as they team with Spider-Man and a group of teens to foil Loki's schemes to take over the world.
Bandai Co., Ltd will release tie-in character merch in Japan targeting the boys market.
This represents a new tack for Marvel in the Japanese TV market, where in 2010 Marvel Entertainment collaborated with Japanese animation studio Madhouse on a series of four anime series based around Iron Man, Wolverine, X-Men, and Blade (see "
Wolverine, Iron Man Anime
"). This time around, Marvel parent Disney and Toei are targeting a younger audience than the earlier Marvel efforts.
The Marvel anime aired in Japan on Animax between October 2010 and September 2011, and in a positive sign for a future U.S. release of
Marvel Disk Wars: The Avengers
, English versions of the earlier anime have aired on G4 (see "
'X-Men' Anime Trailer
" and "
'Blade' Anime on January 2013
"), and were later released on DVD (see "
DVD Round-Up: 'Marvel Anime,' 'Full Metal Alchemist Movie,' & The Original 'Tinker, Tailor'
").