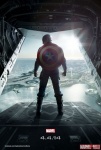 Official promotional material from Marvel has been scarce for
Captain America: The Winter Soldier
compared to other Marvel movies, but we finally have an official trailer (and a new poster), thanks in part to the opening of
Thor: The Dark World
on November 8th, which it will undoubtedly precede.
Captain America: The Winter Soldier
won't open till April 4th of next year, but this 2:27 trailer offers plenty of action and a real look at several of the secondary Marvel characters making an appearance in the movie. Scarlett Johansson's Black Widow is front and center right away, bantering with Cap., and later on there are shots of Samuel L Jackson's Nick Fury (with an ironic one-liner at 1:22) and an awesome action shot of Anthony Mackie's Sam Wilson/The Falcon--diving backwards off what can only be the S.H.I.E.L.D. helicarrier at 1:52--which makes its own major "splash" towards the end of the trailer.
Some poster images have previously been released (see "
Comic-Con Posters Part 1
"), but this is the first video.
Tie-ins include a targeted Marvel publishing program (see "
Brubaker Lauds 'Winter Soldier' Publishing
") and WizKids' planned release of
Marvel HeroClix: Captain America--The Winter Soldier
which will release March 5th, a month before the movie debut (see "
'Cap' Movie 'Clix'
").