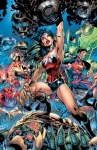 A home has been found for Wonder Woman in feature-length entertainment, but it's on the small screen and will be in the context of a
Justice League
movie, according to James Tucker, the supervising producer of DC animation, in an interview with
Toonzone
. "[W]e'll probably do a Wonder Woman-centered Justice League movie," he said when asked whether there would be a DC animated feature starring Wonder Woman.
Wonder Woman is not seen as able to support a feature on her own, Tucker said. "We'll use the Justice League as an umbrella to focus on characters who might not be able to support DVDs of their own. That's not my judgment, that's based on sales."
The character appears to be languishing, despite Warner Bros. CEO Kevin Tsujihara's stated goal that "We need to get Wonder Woman on the big screen or TV" (see "
Warners Has 'Huge Plans' for 'Other DC Properties'
").
Warner Bros. president of creative development and worldwide production Greg Silverman dodged the question when asked whether Wonder Woman would be in the upcoming Batman-Superman feature or get her own film, according to
Variety
. "[E]verything that has been speculated are things that we've thought about," he said meaninglessly.