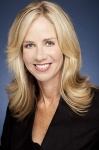 DC Entertainment CEO Diane Nelson doesn't think DC will be missing anything by not being in New York. "I think practically we will not be missing out on anything," she said in an interview on the
Wall Street Journal
Website
about the move. "There are talent and other resources in the New York area we have access to, but fewer and fewer are there. So it's not a compelling reason."
DC announced that it would be relocating its entire New York staff to join the rest of DC in Burbank, California last month (see "
DC Comics Leaving New York
").
While emphasizing that she sees no practical benefits to being in New York, Nelson did acknowledge the intangibles. "There is an emotional aspect and a legacy to the publishing industry in New York and for DC specifically that we will miss out on," she said. "We need to acknowledge that is real."
Nelson repeatedly emphasized that having the entire staff in one place would have collaborative benefits. "When you have a creative business and ideas generated from people working together, I think you can work happier together," she said.
This sounds very similar to the rationale given by Yahoo CEO Marissa Meyer when she banned telecommuting at Yahoo earlier this year. "To become the absolute best place to work, communication and collaboration will be important, so we need to be working side-by-side," Meyer said in a memo to her employees (as reported by the
Los Angeles Times
).
The "we have to be in the same office together" approach is different from conventional wisdom over the past few years, which held that using collaborative software, Skype, and other technological tools, the barriers of place meant little.
Nelson was also asked by the
Journal
why she made the decision to move the company now, three years after the formation of DC Entertainment and her ascension to the CEO position (see "
Warners Forms DC Entertainment
"). "With Kevin [Tsujihara] taking over as [Warner Bros.] CEO and his focus and prioritization on DC, it became the right time," she said. "In addition there are practicalities of our lease terms in New York and here in Burbank."