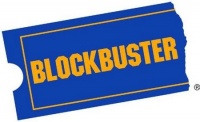 Dish Network's Blockbuster division will close its final 300 U.S. stores and its distribution centers by early January, the company announced Wednesday. Blockbuster is also shutting down its DVD by mail service, which it started to compete with Netflix's similar service a few years back. "Consumer demand is clearly moving to digital distribution of video entertainment," Dish CEO Joseph Clayton said.
Blockbuster has been closing stores rapidly over the last few years, with two previous store-closing announcements in 2013 accounting for 400 stores (see "
Blockbuster Shutters Another 100 Stores
" and "
Blockbuster to Cut 300 More Stores
"). The company had 9000 stores at its peak, but first failed to respond quickly enough to the DVD rental by mail model pioneered by Netflix, and then moved too slowly to offer streaming services. At one point, Blockbuster was a significant channel for graphic novels, CCGs, and other geek merch, but it's been several years since that was the case.
Blockbuster will continue to support its franchise stores (of which there are about 50 in the U.S., according to
Business Week
). Dish will continue to use the Blockbuster brand for its streaming services.