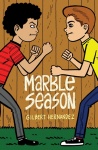 Amazon's editors chose
Marble Season
by Gilbert Hernandez as the best graphic novel of 2013, and listed its Editors' Picks for the 20 best graphic novels of the year. They're listed in Amazon bestseller order (which appears to be current, as opposed to being based on the full year's sales):
1
. Hyperbole and a Half: Unfortunate Situations, Flawed Coping Mechanisms, Mayhem, and Other Things That Happened...
by Allie Brosh (Touchstone)
2.
Batman Vol. 3: Death of the Family ("New 52")
by Scott Snyder and Greg Capullo (DC Comics)
3.
Saga, Vol. 2
by Brian K. Vaughan and Fiona Staples (Image Comics)
4.
Boxers & Saints
by Gene Luen Yang (First Second)
5.
Battling Boy
by Paul Pope (First Second)
6.
March Book 1
by John Lewis, Andrew Aydin and Nate Powell (Top Shelf Productions)
7. Hawkeye, Vol. 1: My Life as a Weapon (Marvel NOW!) by Matt Fraction (Marvel)
8
. East of West Volume 1: The Promise
TP by Jonathan Hickman and Nick Dragotta (Image Comics)
9.
The Black Beetle Volume 1: No Way Out
by Francesco Francavilla and Jim Gibbons (Dark Horse)
10.
The Unwritten: Tommy Taylor and the Ship That Sank Twice
by Mike Carey and Peter Gross (Vertigo)
11.
All-New X-Men, Vol. 1: Yesterday's X-Men
by Brian Michael Bendis and Stuart Immonen (Marvel)
12.
Relish: My Life in the Kitchen
by Lucy Knisley (First Second)
13.
Solo: The Deluxe Edition
by Darwyn Cooke, Jeph Loeb, Brian Azzarello and Richard Corben (DC Comics)
14.
MIND MGMT Volume 1
by Matt Kindt and Brendan Wright (Dark Horse)
15.
Very Casual
by Michael DeForge (Koyama Press)
16.
My Dirty Dumb Eyes
by Lisa Hanawalt (Drawn and Quarterly)
17.
Daredevil by Mark Waid, Vol. 1
by Mark Waid, Paolo Rivera, Marcos Martin and Emma Rios (Marvel)
18.
Lost Cat
by Jason (Fantagraphics)
19.
The Property
by Rutu Modan and Jessica Cohen (Drawn and Quarterly)
20.
Marble Season
by Gilbert Hernandez (Drawn and Quarterly)
It's interesting to compare with
Publisher's Weekly
's 2013 best graphic novel list to see the overlap, especially now that we've updated our report to include its best children's graphic novel picks (see "
PW's Top Graphic Novels of the Year
").