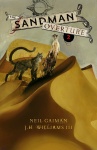 DC Comics has canceled orders for the second issue of the highly anticipated Neil Gaiman Sandman miniseries,
Sandman: Overture
(see "
Vertigo Schedules Gaiman 'Sandman'
"), and is resoliciting based on a late February ship date. That's roughly two months behind the originally scheduled date for the issue in late December.
It's unusual for the second issue of such a high profile book to slip two months; publishers usually have more than one issue in house before soliciting the first. In this case, the originally scheduled two month gap between the first and second issues may have disguised the fact that the second issue was not going to make the schedule.
Writer Gaiman explained on his Tumblr page that he was late with the script, primarily due to a signing tour for his recent novel.