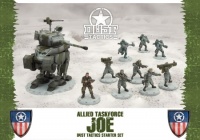 Battlefront Miniatures will release three new
Dust Tactics
starter sets early in 2014. Battlefront took over publishing and distribution of
Dust Tactics
and
Dust Warfare
from Fantasy Flight Games back in June (see "
'Dust' Games to Battlefront Miniatures
").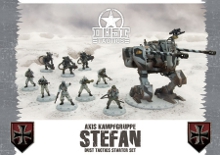 The starter sets will be unique to each faction (Allies, Axis and SSU) and will each contain 1 hero, 1 Walker, 2 infantry units, 1 battle mat, terrain and objective squares, and faction-themed dice. Each set will MSRP for $50.00.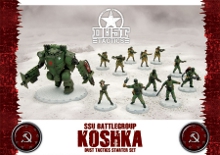 The
Allied Taskforce Joe Starter Set
will contain Bazooka Joe, Pounder, Bot Hunters and Grim Reapers. The
Axis Kampfgruppe Stefan Starter Set
will contain Stefan, Ludwig, Heavy Laser Grenadiers and Recon Grenadiers. The
SSU Battlegroup Koshka Starter Set
will contain Koshka, Grandma, Fakyeli and Red Thunder.
British RPG publisher Modiphius announced a deal in August to produce a role-playing game based on the property called
Dust Adventures
in 2014 (see "
'Dust Adventures' RPG
").