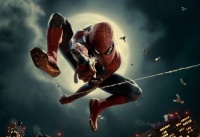 Sony Pictures Entertainment CEO Michael Lynton told investment analysts that the company has "a number of scripts" in the works for stories in the Spider-Man universe, according to
Deadline
. "We do very much have the ambition about creating a bigger universe around Spider-Man," he said.
Sony has the rights to Spider-Man and related characters, but thus far has only used those rights for its two series of Spider-Man movies. The second in the
Amazing Spider-Man
series is due out May 3, 2014 (see "
New 'Amazing Spider-Man' Photos
").