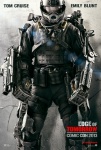 Tom Cruise is trapped in
Groundhog Day
, but at least he has a cool weaponized exoskeleton in this first trailer for
Edge of Tomorrow
, the adaptation of Hiroshi Sakurazaka's light novel
All You Need Is Kill
.
Lt. Col. Bill Cage (Tom Cruise) is caught in a time loop, stuck in a powersuit in the middle of an alien invasion where he dies in battle … and wakes up, only to repeat the whole experience. In one of his déjà-vu days, he meets Rita Vrataski (Emily Blunt) who is somehow living a similar scenario. How close director Doug Liman (
Mr. and Mrs. Smith, Jumper
,
Go
) will stay to the source material is hard to tell.
However, Viz, who will release an all new graphic novel adaptation in May ahead of the June theatrical release (see "
'All You Need Is Kill' OGN
") plans a mass market movie tie-in of the novel, which they will also publish in the U.S. (see "
Interview with Aker and Hamric, Part 2
").
Edge of Tomorrow
will release in theaters June 6, 2014.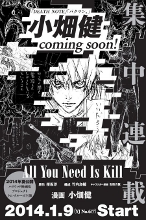 The property is also attracting new attention in Japan. Takeshi Obato (
Death Note, Bakuman, Hikaru no Go
) signed on last week to produce a manga adaptation that will run in Shueisha's
Weekly Young Jump
beginning in January, according to
Crunchyroll
. It's likely that Viz will bring the manga to North America when there's enough material.