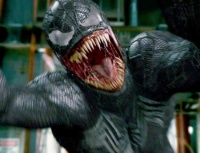 Sony Pictures and Marvel have announced plans to expand the Spider-Man Universe of films to include two new projects that will star Spider-Man villains Venom and the Sinister Six.
The news came as an announcement of writers and producers tasked with "developing the universe and expanding the story in
The Amazing Spider-Man 3, Venom
and
The Sinister Six
" were revealed. The writing team consists of Alex Kurtzman, Roberto Orci, Jeff Pinkner, Ed Solomon, and Drew Goddard, who are collaborating with Marc Webb and producers Avi Arad and Matt Tolmach to expand the existing Spider-Man franchise for Sony and Marvel as sort of "brain trust."
Kurtzman, Orci, and Pinkner, who wrote the script for
The Amazing Spider-Man 2
, were announced as screenplay writers for
The Amazing Spider-Man 3
, which is set to release on June 10, 2016. Kurtzman, Orci, and Solomon will write the screenplay for
Venom
, which Kurtzman will direct.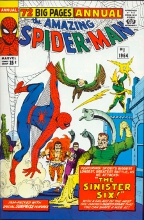 Goddard is tasked with writing, with an eye to direct,
The Sinister Six
film. He's going to be a busy guy working on Marvel entertainment, since he's also the showrunner for the new
Daredevil
series on Netflix (see "
'Jessica Jones' and 'Daredevil' Get Showrunners
").
The original Sinister Six consisted of Doctor Octopus, Vulture, Electro, Kraven the Hunter, Mysterio, and Sandman; but in a later incarnations, Kraven was replaced by Hobgoblin, and further variations followed.
There was plenty of speculation (and over analysis) from the first trailer for
The Amazing Spider-Man 2
regarding secondary villains appearing in the film (see "
First 'Spidey 2' Trailer
"), mainly regarding possibilities of the film laying the groundwork for a Sinister Six appearance.
Venom has appeared cinematically before, in 2007's
Spider-Man 3,
played by Topher Grace.
Will super-villain movies work? In the comics world, books starring villains historically have not done nearly as well as books starring heroes, even if the villain gets a lot of the attention in the hero's books. No-one argues that the villains are often the most interesting characters, but hanging two movies on the bad guys might be the riskiest bet we've seen in the ongoing comic-based movie gold rush.