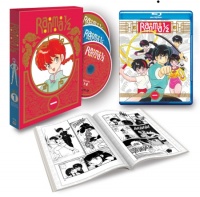 VIZ Media will release the first of seven seasons of the restored Ranma 1/2 anime on Blu-Ray and DVD on March 25th; the first manga omnibus will release March 11th.
The martial arts action adventure comedy series based on the manga by Rumiko Takahashi will be restored, and the 23 episodes will be shown in the original Japanese episode order for the first time in North America. The audio will include subbed and dubbed versions, as well as a secondary "signs and songs" subtitle track. Bonus features on both editions will include trailers, and a 2013 New York Comic Con highlight reel.
The
Limited Edition Blu-ray Box Set
is packaged in a premium chipboard box, illustrated by Takahashi, with gold foil stamping. It will include a 64-page booklet consisting of a full color episode guide as well as a manga re-master sampler. Exclusive disc extras include footage from the
Ranma ½
panel at the 2013 New York Comic Con and a "We Love Ranma" Part 1 Manga Remastering interview with VIZ Media editor Hope Donovan, in addition to what appears on the DVD. The Blu-ray will be presented in an uncropped 4:3 aspect ratio with 1080p High Definition. MSRP for the 3-disc
Limited Edition Blu-ray Box Set
is $54.97; the DVD is $44.82.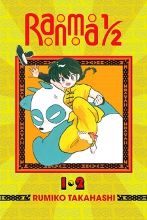 VIZ added that the 2-in-1 omnibus editions of the manga, featuring the original right-to-left reading format, will also debut in March.
Ranma 1/2 (2-in-1 Edition): Vol. 1
will release on March 11 and has an MSRP of $14.99.
VIZ announced the anime relaunch, which started with a streaming release, back in September (see "
'Ranma 1/2' Relaunch Adds Anime
"); and plans for the manga back in July (see "
Viz Announces R-L 'Ranma'
").