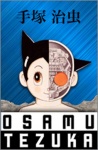 Tezuka Productions has signed with production and management company Cross Media International "to develop distribution opportunities for Tezuka's extensive portfolio... within North America," the companies announced today.
CMI has offices in San Francisco and Tokyo and specializes in "projects that cross cultures, geography, and media."
Tezuka appears to be taking a more organized approach to the U.S. market; the company recently signed a broad distribution deal for Japanese products with Diamond Comic Distributors (see "
Diamond to Distribute Tezuka Merchandise
" and "
Tezuka Productions Interview
").