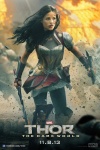 While ABC President Pat Lee, who was speaking to the Television Critics Association, stopped short of announcing that
Marvel's Agents of S.H.I.E.L.D.
will be back for a second season, he did mention that actress Jamie Alexander, who plays the Asgardian warrior Sif in the
Thor
movies, will make an appearance in the 15th episode of
Agents of S.H.I.E.L.D.
, which is likely to air in February, and that Alexander's role will not be a mere cameo, but will be "integral" to the episode.
The move to bring in another direct link to the Marvel movie universe appears to be an answer by the show's creators to criticism from Marvel Comics fans, who want more elements of the Marvel Universe included in the
S.H.I.E.L.D.
TV series.
Lee told the TCA that he felt "very good" about the prospects for the second half the show's inaugural season, and
Entertainment Weekly
also reports that Lee promised the TCA that the identity of the mysterious "Clairvoyant" character will be revealed by the end of Season 1.