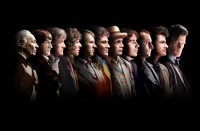 Titan Comics has obtained a license to produce
Doctor Who
comics beginning in 2014. IDW Publishing announced the end of its license from the BBC back in July, with its last new comic published in late December (see "
IDW Ends 'Doctor Who' Partnership With BBC
"). There's typically a sell-down period at the end of licenses such as this, so IDW presumably has some months in which to clear the channel of its
Doctor Who
titles, with the Titan releases to follow.
The new stand-alone stories from Titan will feature the Tenth, Eleventh and (after the new series launch) Twelfth Doctor. Given that the eighth season won't premiere till Autumn 2014, it's doubtful that comics featuring Peter Capaldi's Twelfth Doctor, who first appeared (or rather regenerated out of) Matt Smith's Eleventh Doctor during the
Doctor Who
Christmas special,
The Time of the Doctor
(see "
'Doctor Who' Sets BBC America Record
"), will appear before then.
The
Doctor Who
comics have sold OK for IDW, including several titles on the most recent Top 300 GN list (see "
Top 300 Graphic Novels Actual--December 2013
") as well as five titles ranking in the Top 500 GNs of 2013 (see "
Top 1000 Graphic Novels--2013
"). But the London-based Titan may be a better fit for this most British of science fiction properties.