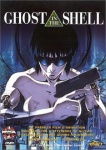 Rupert Sanders, who directed a live-action film featuring the heroine of the first animated feature of them all (
Snow White and the Huntsman
), has been tapped by Dreamworks to helm a live-action film based on the manga and anime property
Ghost in the Shell
, which was created by Masamune Shirow. Shirow's original manga, which was published in 1987 and appears ever more prescient with its vision of a computer-dominated future replete with hacker villains, spawned three anime movies, an anime TV series (
Ghost in the Shell: Standalone Complex
), and three videogames.
The process of making a live-action movie out of
Ghost in the Shell
began way back in 2008 (see "
'Ghost in the Shell' Live Action Movie
") when Dreamworks acquired the rights. Avi Arad, who helped Marvel Studios get established, has long been attached to the project (see "
'Ghost in the Shell' Movie Closer
"), which finally appears to have gained some momentum.
Deadline
reports that the decision to push ahead with the live-action
Ghost in the Shell
and hire Sanders was based on the studio's confidence in a new script by William Wheeler, who previously wrote
The Reluctant Fundamentalist
and
Entering Hades
, a serial killer drama that Robert Schwentke is slated to direct.