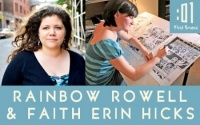 First Second Books has confirmed it has signed critically-acclaimed YA author Rainbow Rowell to a two-book graphic novel deal, with the first title illustrated by Faith Erin Hicks.
Rowell is well known for her young-adult titles
Eleanor & Park
and
Fangirl
, both of which have been lauded by the
New York Times
.
Eleanor & Park
was also chosen by Amazon as one of the best books of 2013, and won the 2014 Michael L. Printz Award.
Both upcoming graphic novels will be YA romance, in the geeky-teens-dealing-with-contemporary-issues style of the author's previous YA prose novels.
Faith Erin Hicks (
Friends With Boys, The Adventures of Superhero Girl
), whose graphic novel with Prudence Shen,
Nothing Can Possibly Go Wrong,
was recently named to the
School Library Journal
's Best Graphic Novels of 2013 list (see "
SLJ's Best GNs for Kids List
"), also recently signed a deal with First Second to produce a trilogy of graphic novels (see "
'The Nameless City' by Faith Erin Hicks
").
Commenting on her busy schedule, Hicks posted on her Tumblr, "As it turned out, Rainbow wouldn't be able to start writing the comic for a while, as she had another book to write." Rowell has another prose novel titled
Landline
due in 2014.
Hicks continued, "So that gave me the opportunity to finish book 1 and possibly book 2 of
The Nameless City
, take a break from that to work with Rainbow, then return to book 3. This graphic novel Rainbow & I are doing is a ways down the road due to us being busy, but it's coming!"